Seventeen Seconds – Stagione 3 – #2
---
29 novembre 2018
Rubrica Musicale (New Wave, Dark, Synth/Electro Pop, New Romantics, 80's)
A cura di Herbert Pacton & Federico Juan Rossi
Seventeen Seconds accende i suoi microfoni su Radio Gwen per farvi compagnia e farvi passare 2 ore con i suoni dei mitici anni 80…. ma non solo…. avremo sempre un orecchio teso verso il presente per scoprire i nuovi gruppi che ancora oggi ricalcano e cercano di tenere viva quest'ondata musicale…..
In onda ogni ultimo Giovedì del mese dalle ore 12.30 – alle 14:30
Seventeen seconds è nato da una passione smisurata per il periodo che ha cavalcato la musica a tra la fine degli anni 70 e tutto il 1980. Herbert e Federico tra una pezzo musicale e l'altro, accompagneranno gli ascoltatori attraverso notizie improbabili recuperate da tutto il mondo e qui la differenza da altre trasmissioni che si occupano di musica Dark, New Wave… si fa sentire.
You only need seventeen seconds to love them…
Scaletta Puntata:
In questa puntata, abbiamo il grandissimo onore di avere in scaletta
"HAPPINESS PROJECT"
Biografia
Happiness Project is a singular band…
First there is the choice of a surprisingly joyful name for such a melancholic music. Happiness Project is the combination of electronic sounds, DiY (do It Yourself) attitude and cold-wave influences.
Then, the band's organisation itself is atypical, with two lead singers: Christelle and Fred bringing alternatively their personalities and providing duality and different emotions. Cyrille, the instrumentist of the trio, alternatively programs machines and synthesizers or plays bass guitar with Fred also playing keyboard melodies.
The three, Christelle, Fred and Cyrille create an original and personal blend of electronic music with distinctively critical lyrics and themes (human condition within new technologies, environment…).
In 2008, after a few demos, the band published an auto produced CD album called "Remove Or Disable", where the first version of track "Blue Eyed Boy" appears and pushed by a great video clip which caught the attention of electronic pop label BOREDOMproduct. A "Black Version" has been re-worked to kick-off the collaboration between the trio and the label and will be one of the 11 tracks of "9th Heaven" the new Happiness Project album currently in the works.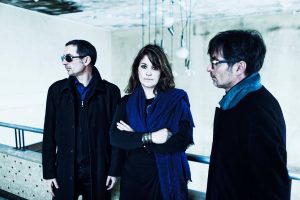 Happiness Project est né à Limoges. L'histoire est simple. En 2002, Christelle Fournioux et Frédéric Tuyéras se rencontrent sur leur lieu de travail et comprennent vite qu'ils partagent la même passion dévorante pour la musique. Or Frédéric Tuyéras est le frère jumeau de Cyrille Tuyéras. L'un chante, joue des claviers et écrit des chansons, l'autre joue de la basse et compose à l'aide de synthétiseurs et d'ordinateurs. En intégrant Christelle, le duo de jumeaux devient un trio. Happiness Project vient de voir le jour. En 2003, Patrice Fournioux et William Cavelier s'ajoutent à la liste des membres et portent l'effectif au nombre de cinq.
C'est ainsi qu'Happiness Project sort ses deux premiers albums, Electric Games, en 2006, et Happy Live Bomb, en 2007. Cependant, c'est de nouveau le trio Cyrille/Frédéric/Christelle qui enregistre en 2008 leur troisième effort, baptisé Remove Or Disable.
C'est donc un Happiness Project très soudé et déjà parfaitement aguerri qui sort en 2013 son quatrième opus, 9th Heaven, son premier au sein du label BOREDOMproduct.
D'ailleurs dès le « I Want You » inaugural de leur Electric Games initial de 2006, on sent dès le départ un groupe uni, solide, bien place et surmotivé. Deux ans plus tard, en 2008, c'est en groupe tout à fait expérimenté qu'ils enregistrent Remove Or Disable, dont le clip « Departure » qui en est issu démontre l'excellence désormais acquise par le trio. La parution de 9th Heaven, début 2013, a été environnée par la sortie de deux EPs, l'un tournant autour de « Desillusion », l'autre prenant appui sur « Poupée Mécanique » et dont la front cover n'est pas sans rappeler celle du The Mix de Kraftwerk.
Autant dire que l'arrivée d'Happiness Project chez BOREDOMproduct s'est faite dans le faste et l'enthousiasme. Rien d'étonnant, car quatre années, une longue période pour n'importe quel groupe, s'étaient encore écoulées depuis le précédentRemove Or Disable. Happiness Project avait visiblement encore beaucoup mûri dans ses thèmes et ses textes et progressé musicalement au contact des membres de BOREDOMproduct. Le résultat ? Un 9th Heaven de toute beauté, ma-gni-fique!
Article Rédigé par Frédéric Gerchambeau sur le webzine Clair et Obscur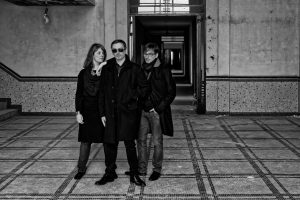 "Line up"
Christelle -Female voice
Fred – Male voice and keyboard melodies
Cyrille – Programs machines – synthesizers – bass guitar
"Etichetta Discografica"
"Press & Promotion"
Band Manager
claire.tuyeras@gmail.com
"Web" 
"Contatti"
BOREDOMproduct
BP40016 13191
Marseille
Cedex 20
France
boredomproduct@online.fr
Happiness Project – Big Cities